when it matters most.
Communikit is a powerful digital platform that effectively replaces your Nation's current mailing lists, digital newsletters, and community flyers as a means of official communication. Get your message to your community - instantly - in just a few steps, using a single platform.
Join
100+
Indigenous Communities Already Using Communikit
About
Message Received.
Communikit works wherever and whenever people need to communicate — from First Nations and Tribal Councils, to Metis Nations and Indigenous Organizations and beyond.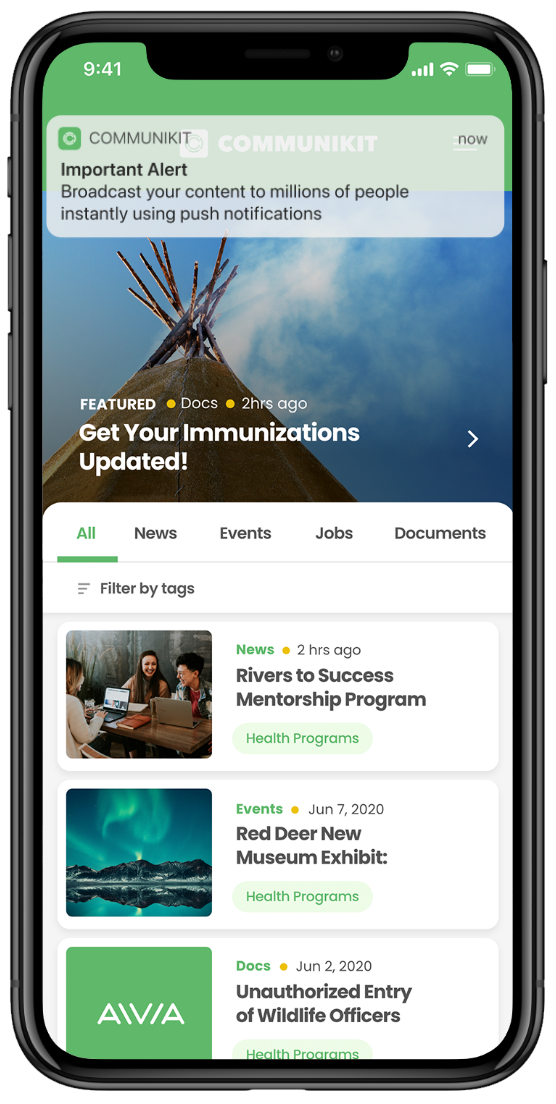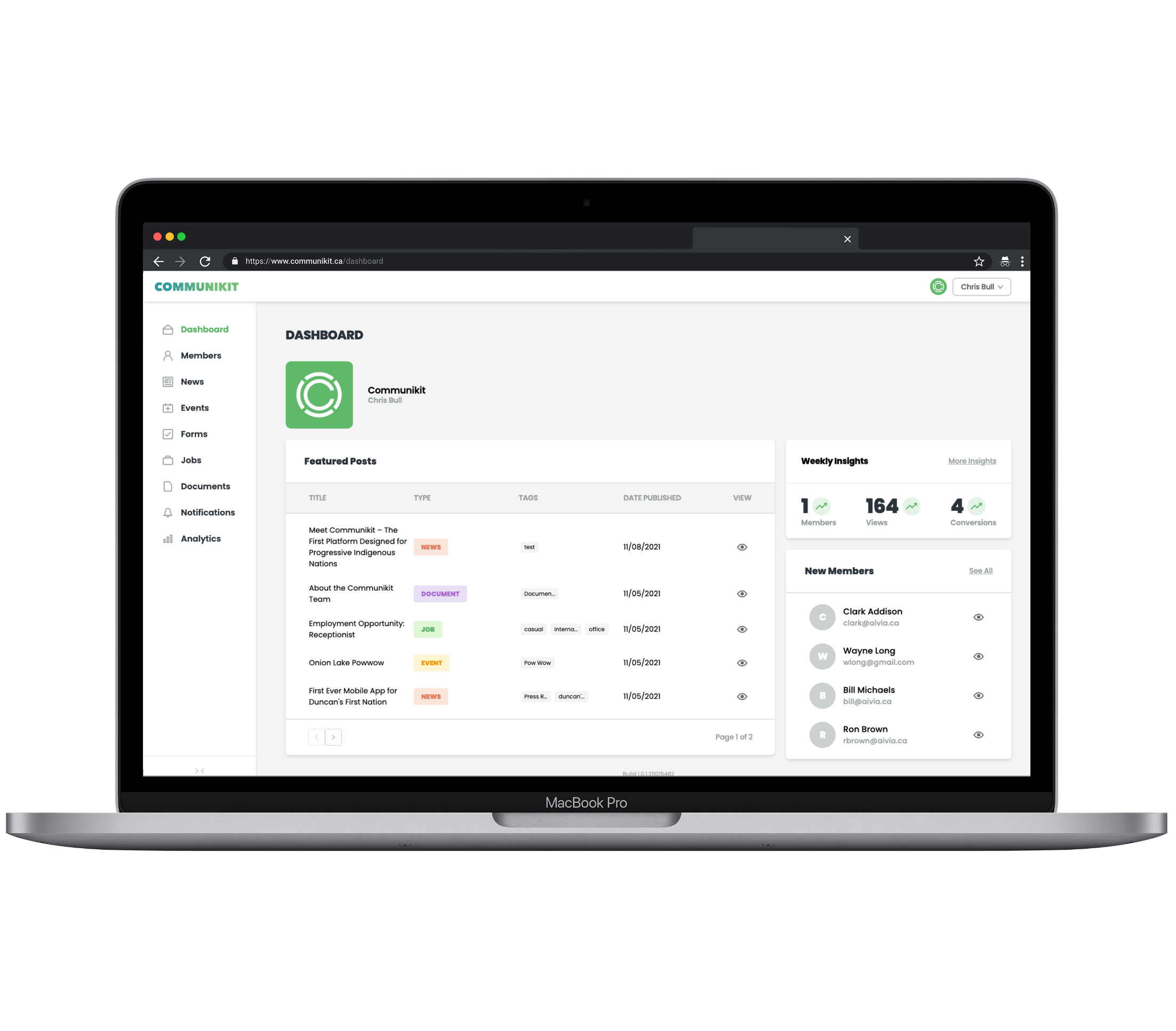 Due to our experience with mobile app development and our custom app platform, we are able to get apps up and running in as little as 10 business days.
Reach your community in 4 easy steps
Create A New Post
Create a new post on the dashboard. This can be an Event, News Update, Document, Form or Job Posting.
Select Recipients
Select the people you want to send your post to. You can sort members into custom groups such as Chief and Council, band members, staff, general public, etc.
Publish
Publish your post to the app with a single click. You can also set push notifications, schedule posts, save them as drafts, or disable them temporarily.
View Analytics
Track trends and engagement over time. See your Top Posts, Conversions, and New Users.
Why use Communikit?
Here's what our clients' Chiefs and leadership are saying:
Connect with a variety of tools
Members
Sort members into custom groups Such as band members, Chief and Council, and the general public.
Notifications
Have the power to reach your members on their mobile devices at any time, no matter where they are.
Forms
Easily create and distribute custom forms and surveys with the form creation tool.
Events
Easily invite and sign members up to your events using your own app. Powwows, band meetings, and more.
Jobs
Post job opportunities for members to easily access and apply. Get applicant responses right in your inbox.
Documents
Easily share critical updates, important documents, and vital resources with members.
Your Very Own Developer Profile
Communikit is a platform that puts you in the owner's chair. We feel it is important for each Indigenous Organization to have the satisfaction of true ownership and control. We facilitate the entire process, step-by-step; our expert staff will get you established on the world's top mobile distribution networks.


Your Profile, Your Control
What Do I Get To Promote My App?
Each Communikit App Development Package includes everything below as part of your setup with no additional costs:
Digital Dashboard
Access to online admin panel to manage app content & users
Access to app store reporting & download numbers
Branded Mobile App
Mobile app design personalized with brand logos and colours
Mobile apps built for iOS & Android devices
Physical Marketing Materials
25 full colour posters (11 x 17) designed & shipped to you
25 full colour tent cards designed & shipped to you
8.5 x 11 office printer sized poster design
Digital Marketing Services
Professional press release written & published
Social media graphics for Facebook, Twitter & Instagram
Ads for the App & Play stores
Keep your members informed
One unified channel for your communications and resources
Know your messages are being received by the correct person
Control the conversation - no more worries about public comments derailing discussions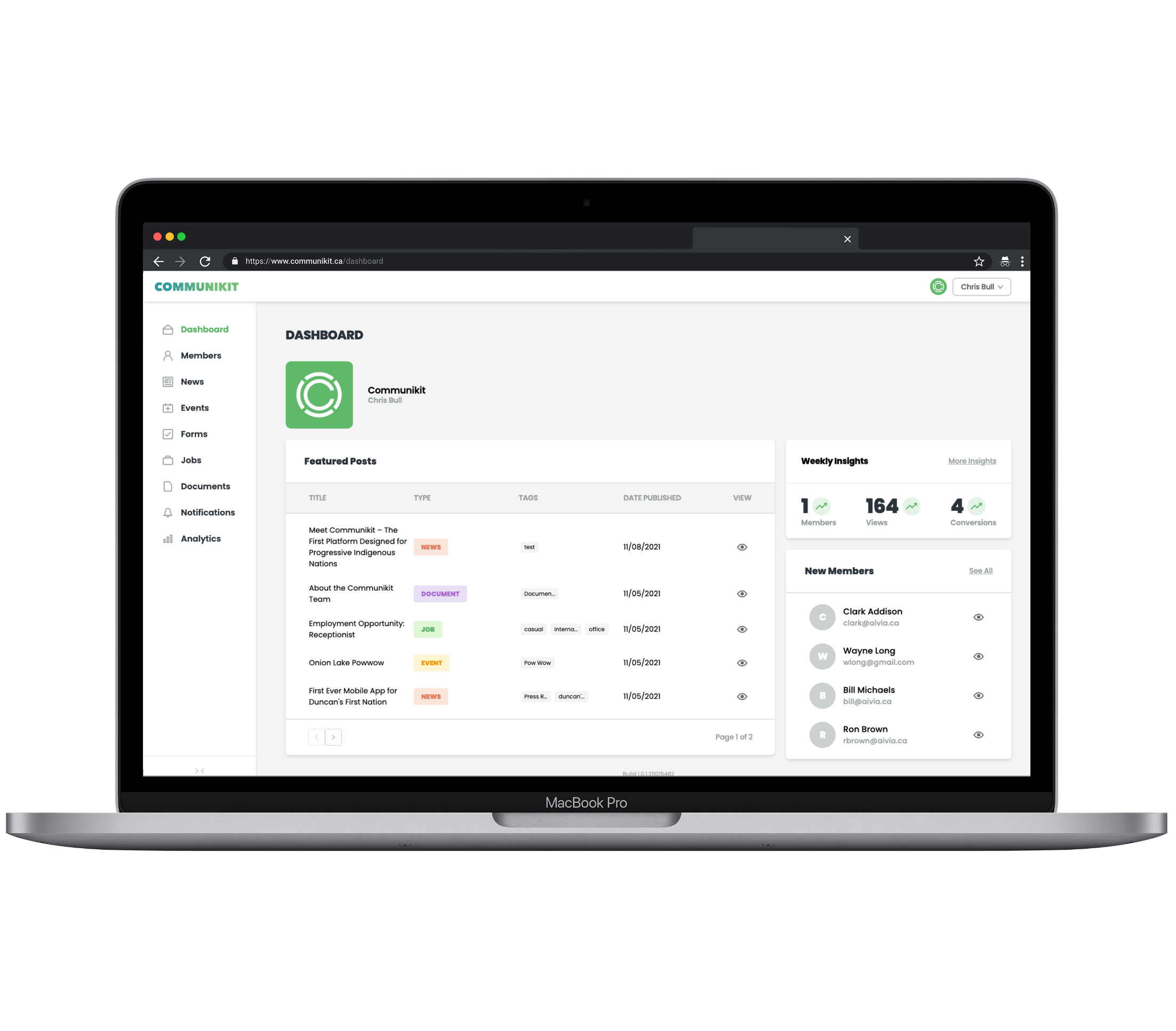 Never miss an update
Always know what's happening at the Band Office or Tribal Council
Receive up to the minute notifications from Administration directly to your phone or tablet
Add events to your phone's calendar from the app with a single tap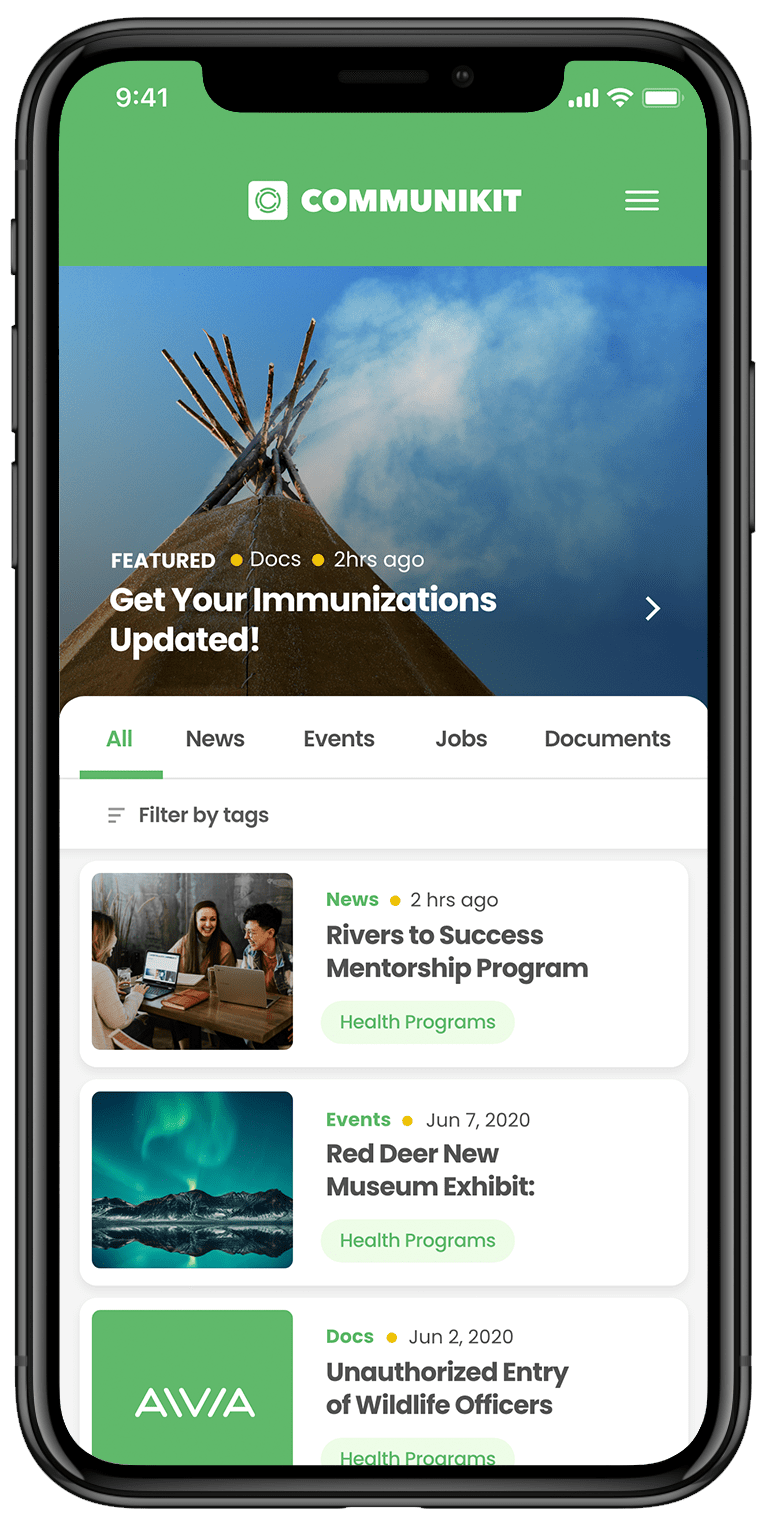 "App technology helps connect Indigenous communities"
CBC News Edmonton
Highlighted as a breakthrough platform communicating essential information from progressive indigenous administrations to their members on and off reserve.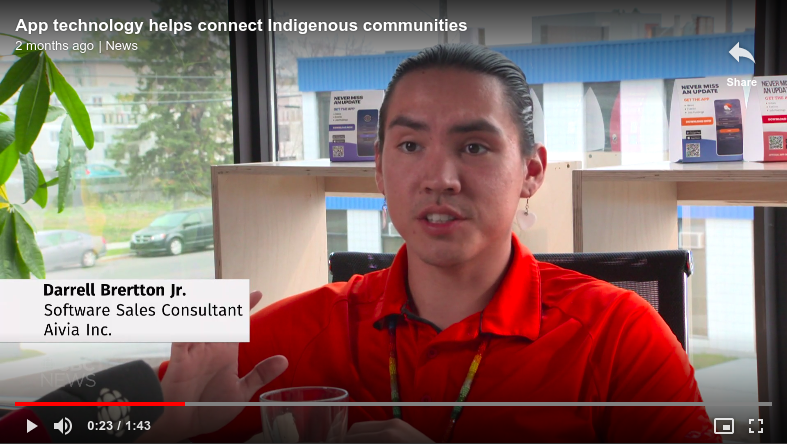 AS SEEN ON
"Alberta's Communikit app connects Indigenous communities"
Global News Edmonton
A digital platform created in Alberta is replacing current mailing lists, digital newsletters and flyers for Indigenous nations and organizations.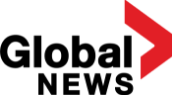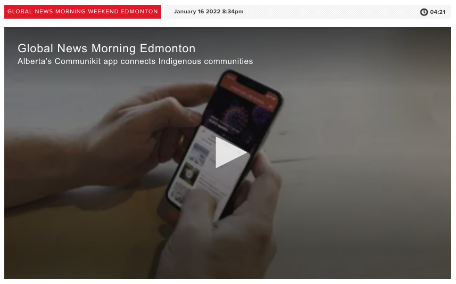 AS SEEN ON
"New Digital Platform used to Bridge Indigenous Communities"
CTV News Edmonton
Communikit is a program made to design distribute and deliver information straight to band members cell phones. On and off reserve members really love the app.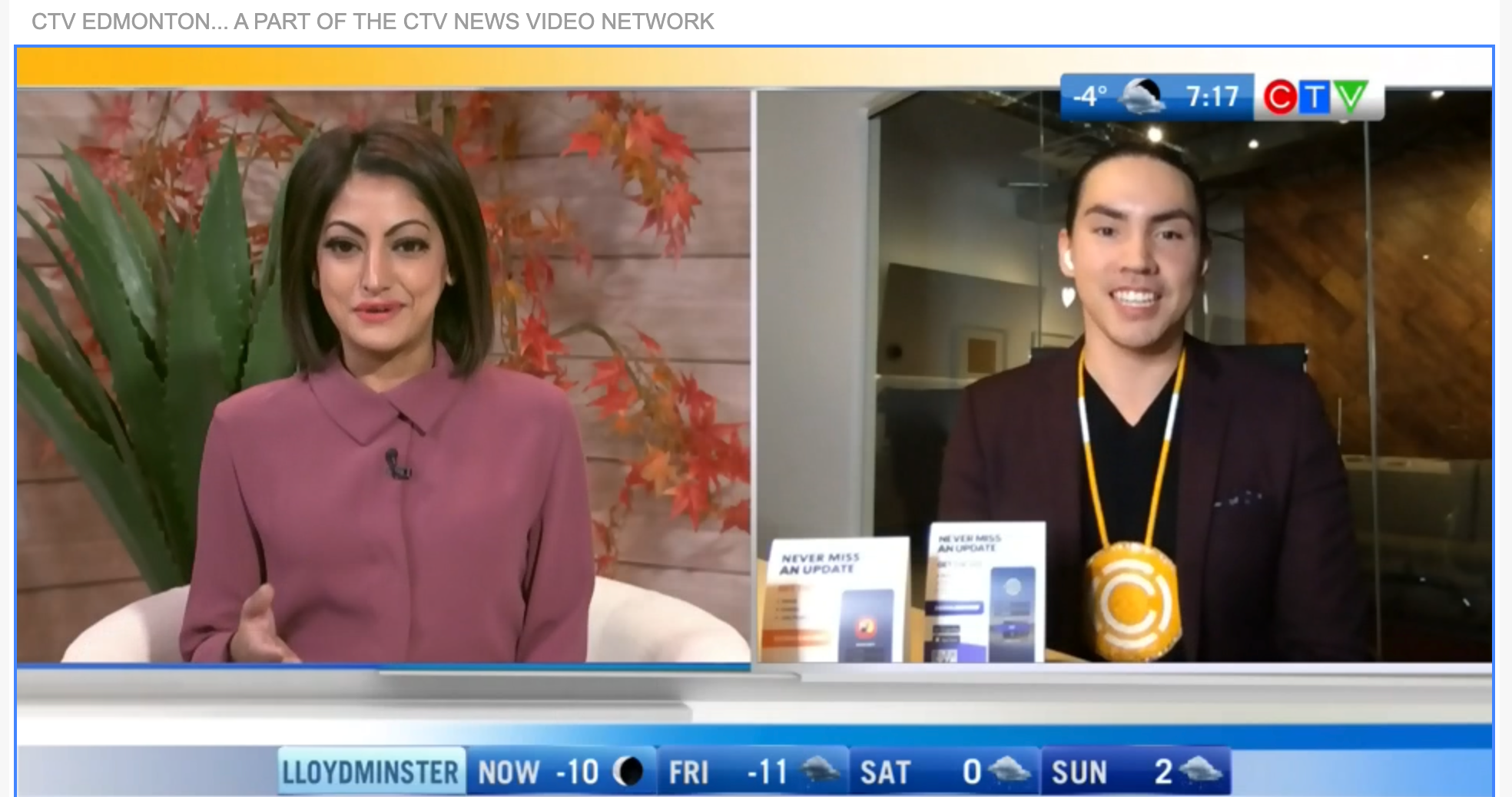 AS SEEN ON
"New App aims to revolutionize communication for First Nation communities"
Alberta Native News Article
An Alberta-based tech company aims to revolutionize how First Nation bands communicate with their membership. The company – AIVIA – has developed an App tailored for the specific needs of Indigenous communities.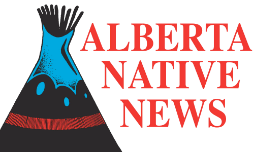 See the articles here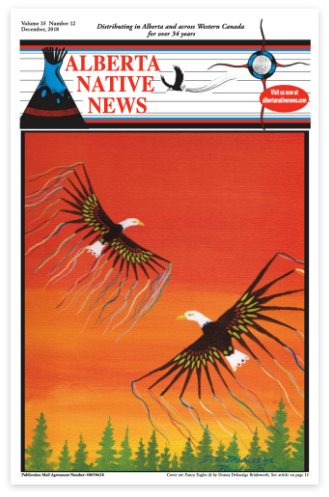 AS SEEN ON
"A high-tech solution aimed at Indigenous communities"
Edmonton's EDify Magazine Dec Issue
Using push notifications through mobile devices, Communikit gets the word out in a way that's more reliable than other electronic means. And, unlike social media, the message doesn't get lost in threads that go off topic.

See the articles here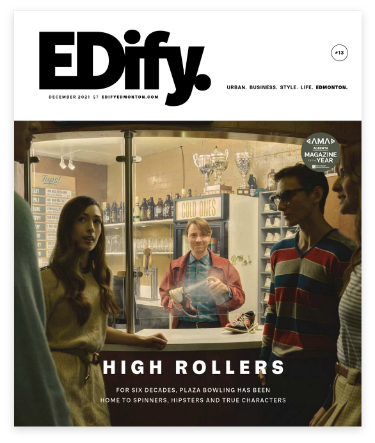 AS SEEN ON